Opened 1904

Theater

Dance Hall

Trading Post and Soda Fountain

Gourmet Coffee Shop added 2007
The building housing the Historic Seligman Sundries has been a part of the Seligman landscape since 1904. Throughout time, the building has
served as a theater, dance hall and a social center in addition to functioning as a trading post and soda fountain. The building's large size (approximately 2,300 square feet) made it a natural for high school graduations during Seligman's early days. Another historical tidbit, during the 1920's cowboy celebrity Tom Mix made an appearance with his horse. Rumor has it that the visit wasn't just to the building – Mix reportedly rode into the building.
In fact, the building is one of the oldest commercial structures in town. Additionally, the building bears the distinction of being on the National Register of Historic Places. Throughout the years, the building has housed Ted's Fountain & Trading Post as well as the Seligman Sundries. Ted's was known as the best place in town for malts. The Seligman Sundries, at one time, could boast of having the only telephone in town.
Renovating a Piece of History
In 2005 the new owners of the historic building knew, without a doubt, their unique building must be renovated with extreme care. This charming building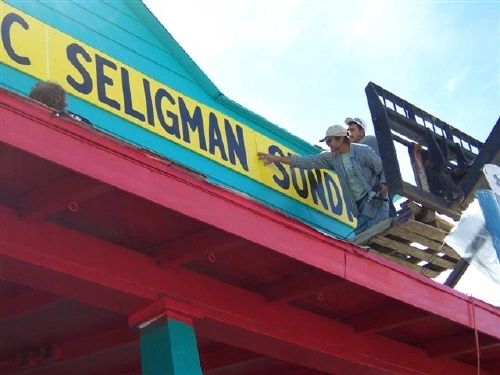 deserved no less than to remain the long-time icon it is.
Modernization was only made to such things as the heating, plumbing and electric systems. Of course, there was a little bit of a "face-lift" with colorful new paint and signage.
While cleaning and organizing the interior, a treasure trove of antiques and vintage product signs were found. It was natural to prominently display those items. However, the centerpiece of the building is the soda fountain. That too has been kept as close to the original condition as possible.
The final product is the building's rebirth as Historic Seligman Sundries and into a gourmet coffee bar, gift shop and a trip into the past. Memorabilia adorns the walls and aisles. It is a true history lesson.